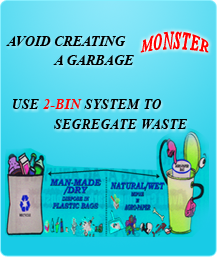 Are you concerned about your city
Saturday, April 22, 2006

Creating wealth from waste
Monday, March 6, 2006

Education is everything

GC lanches the website

Kandiwali NGO shows the way
Friday, September 21, 2007

Making wealth out of waste
Sunday, February 26, 2006

Segregation begins at home
Sunday, February 26, 2006

They start the fire
Sunday, February 16, 2007

Throw away triump
Friday, April 27, 2007
Core areas of work:
Corporate Social Responsibilty is increasingly focusing on Sustainable Resource Management. We work with corporates to develop and implement strategies leading to Carbon Foot Print Analysis and GHG Mitigation Strategy Development. Our projects have diverted 95% of the waste stream with only 3-5% waste needing to be land filled reducing pollution and overall Carbon footprint due to unmanaged wastes.
Sustainable Environment Management needs a task- force to make the concept a reality. Thus, through Green Manager Program and Green Entrepreneurship Program, we focus on livelihood creation through the skill training of unskilled and school dropout men and women.

We use the platform of Environmental Awareness programs at corporate offices, housing societies, schools, colleges, and slums, to emphasis on importance of segregation at source and then highlight the use of bio-composting, recycling, bio gas plant, etc. Our Green Angels Program aims to develop practical skills children and Youth to care for Environment.

We motivate people to increase green space and healthy natural lifestyle by incorporating indoor herb garden, cultivate your own vegetable. We have developed innovative concepts like gift-a-plant, gift-a- garden; to incorporate green living in urban setup. We connect with people through exhibitions and CSR projects.