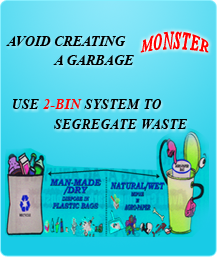 Are you concerned about your city
Saturday, April 22, 2006

Creating wealth from waste
Monday, March 6, 2006

Education is everything

GC lanches the website

Kandiwali NGO shows the way
Friday, September 21, 2007

Making wealth out of waste
Sunday, February 26, 2006

Segregation begins at home
Sunday, February 26, 2006

They start the fire
Sunday, February 16, 2007

Throw away triump
Friday, April 27, 2007

Vermiculture
Friday, November 24, 2006

Most Pro-Active Environment NGO for 2006 and 2007 by MCGM and Maharashtra Housing Society Welfare association
Read More!

We aim to train 2000 unskilled, unemployed, school dropout men and women by March 2014 in gardening, basic housekeeping, soft skills
Read More!

Bridge the gap in Health, Sanitation and Livelihood opportunities, Encourage Research Studies, faced by urban poor
Read More!
Welcome To Garbage Concern Welfare Society
Garbage Concern Welfare Society (GCWS) is an 80G Regd. Non-Profit-Non-Government, Research and Education promoting Organization based in Mumbai, India, working since 2005.
Our Motto: Changing indifference into Action.
We at Garbage Concern promote Sustainable Environment Management through focused Environmental Education. We believe that Environment Education empowers citizens to Proactive Environmental Commitment. We work to build sustainable communities through the use of 4 D's: direction, dedication, determination, doing, thus taking environmental education and sustainable living practices beyond classroom / boardroom to the grassroots.